Persicaria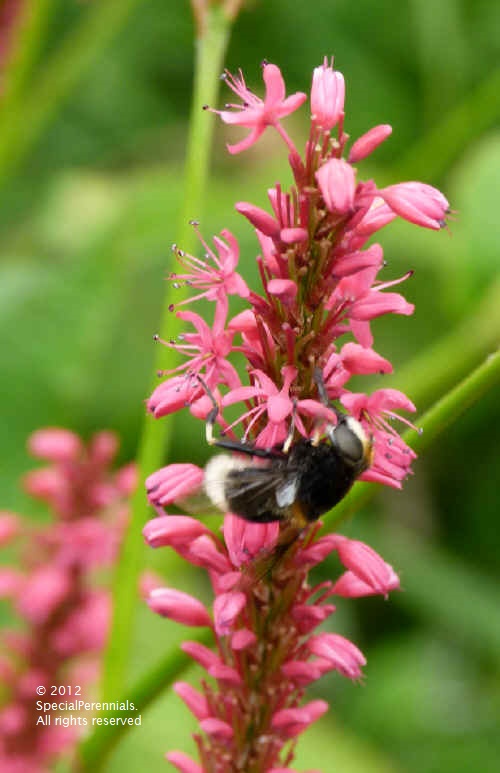 (formally called Polygonum)
Common Names: Bistort, Fleece Flower.
Moisture loving plants with creeping stems and bottle brush flowers throughout the summer, normally in shades of pink and red. There varieties for the rock garden, border and even amphibious ones for the pond.
Whilst they prefer moist soil most will tolerate dry conditions but won't spread so much. Dead head spent blooms by pulling off the flowering stem at its base. This will ensure further flowers throughout the summer.
Propagate by division. Dig up and replant healthy sections every 2 or 3 years to keep in check and avoid the centres of clumps dying out.
Read more about propagation of these plants in our Garden Diary for October 2009 and also November 2009
Persicaria flowers are very attractive to bees and hoverflies.
Members of the Polygonaceae family
Persicaria affinis Superba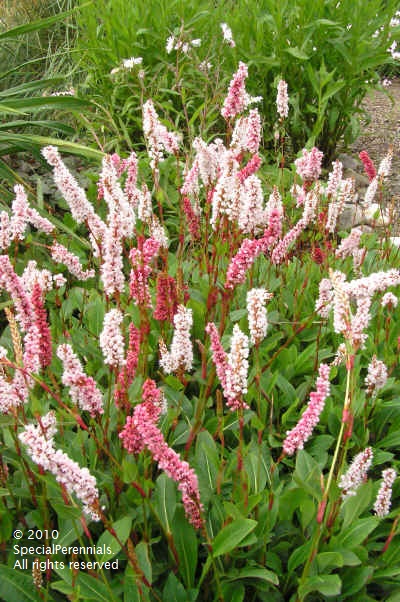 Low creeping stems to 15cm. Pale pink flowers maturing to deep rose in spikes up to 25cm high. Leaves become tinted red in autumn. Flowers May through to September. The variety "Dimity" bred by Alan Bloom is said by the RHS to be identical to this one.
Common Name: Himalayan Fleece Flower
RHS Award of Garden Merit.
Price £4.50 (9cm pot) Just a few left
Persicaria amplexicaulis Atrosanguinea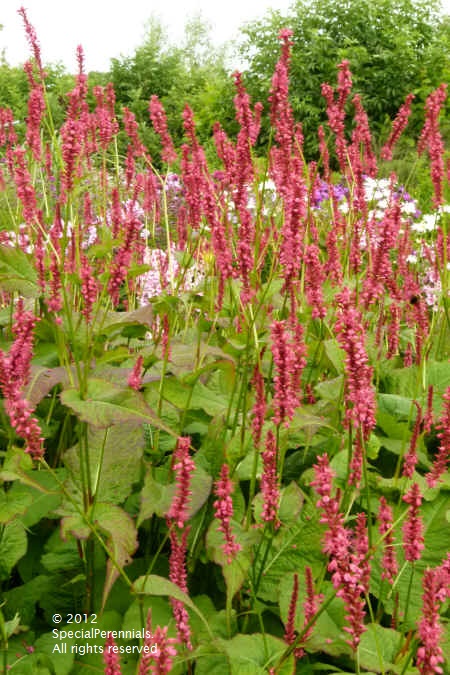 Massed flower spikes in a soft red that tone well with other plants. Forms a spreading clump up to 3ft tall in flower. Flowering from July to October.
Price £4.50 (9cm pot) Limited stock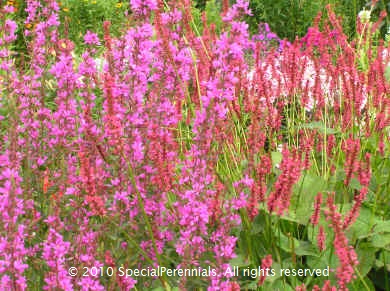 Perfect partners with Lythrum Dropmore Purple for a vibrant planting composition in August.
Persicaria with its masses of florets attract all kinds of insects including butterflies like this Common Blue
Persicaria amplexicaulis Blackfield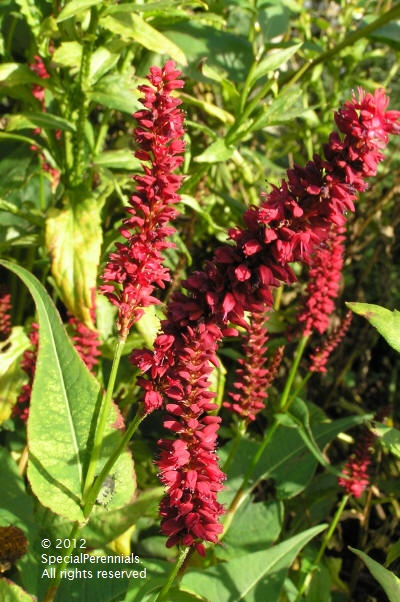 New variety with slender flowers in deep, almost black red. A real smoldering beauty in our hot bed.
2 - 2ft 6in tall.
Price £5.00 (9cm pot) very limited stock
The eagle-eyed will spot the Shield Bug lurking in the picture - see our garden diary for October 2010 for more on this harmless bug.
Persicaria amplexicaulis Firedance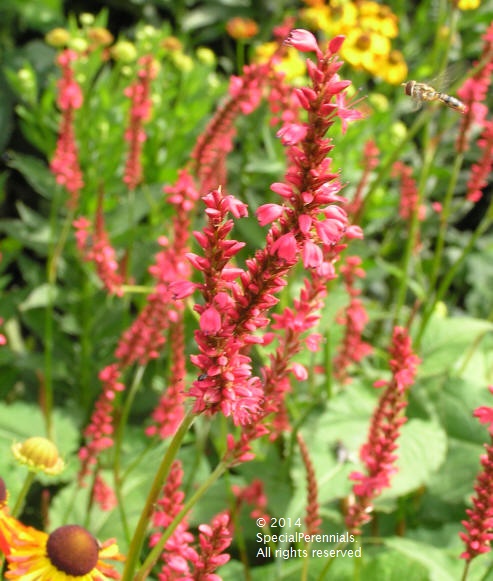 The nearest to fiery red of current varieties. About 3ft tall
SOLD OUT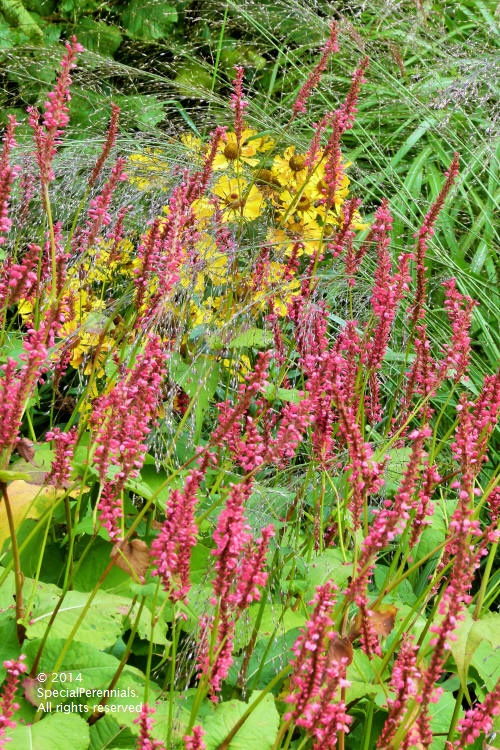 Persicaria amplexicaulis Inverleith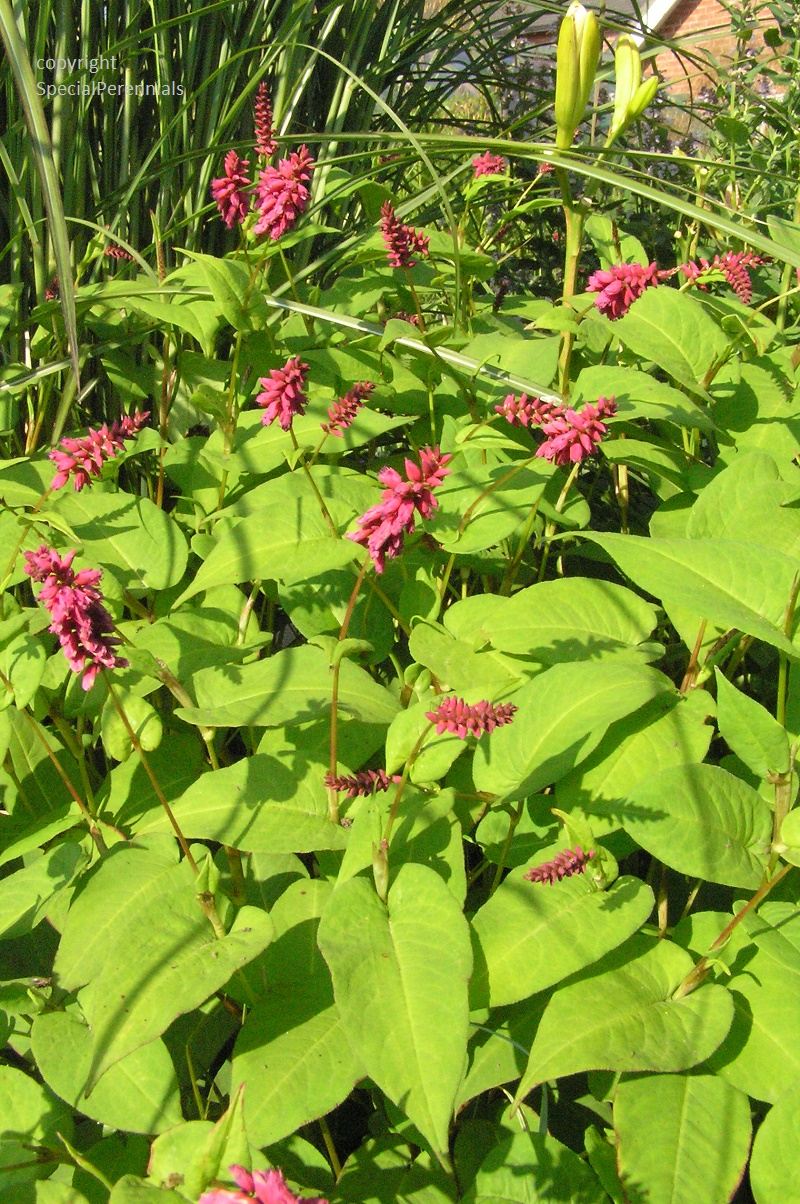 Neat, low growing ground covering. 1ft tall
Price £4.50 (9cm pot) Just a few left
Persicaria amplexicaulis Rosea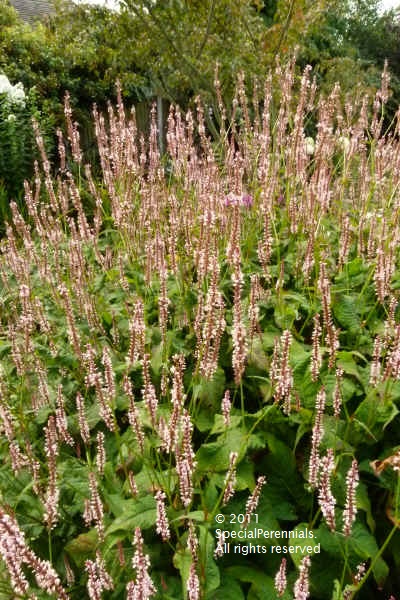 Very pale pink flowers on 3ft - 4ft tall stems. Flower June to October.
SOLD OUT. More coming soon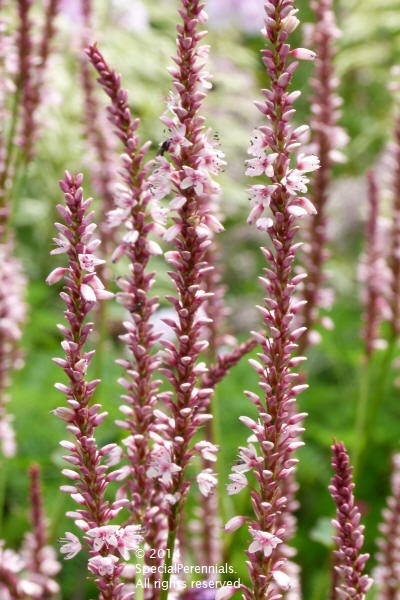 Large leaves to 25cm high. Pink bottle brush flowers on spikes 60-70cm high. Flowers in flushes between May and September if dead headed.
Great for moist or wet soils but also grows very well in dry semi-shade
RHS Award of Garden Merit
Price £4.50 (9cm pot)
Limited stock may be available to order for mail order and collection at plant fairs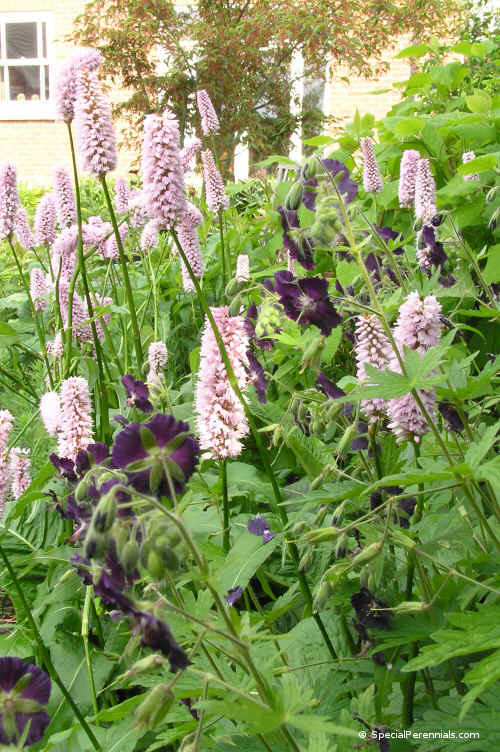 Perfect Partners: Persicaria bistorta Superba in our garden with Geranium phaeum Lily Lovell. 18 May 2009.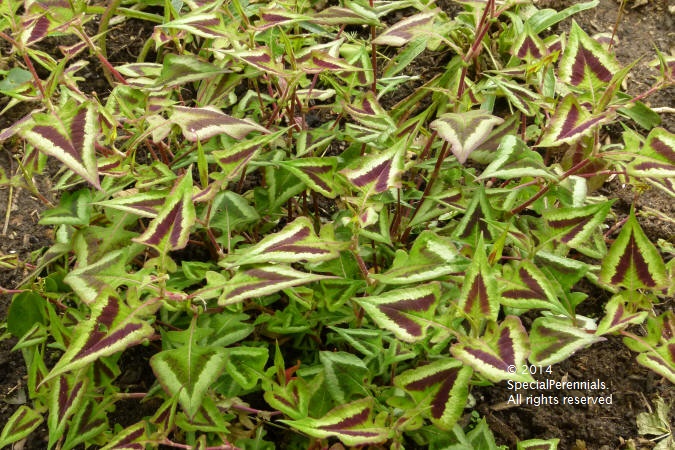 Persicaria
Exotic looking but perfectly hardy with us. The leaves keep their best colour and patterning in light shade. Up to 2ft tall but we keep it short by pinching out the tips regularly. The small clusters of pink-white flowers are unremarkable but don't spoil the show!
A clump former.
Price £4.50 (9cm pot) Very limited stock may be available to order for mail order and collection at plant fairs
Persicaria microcephala Red Dragon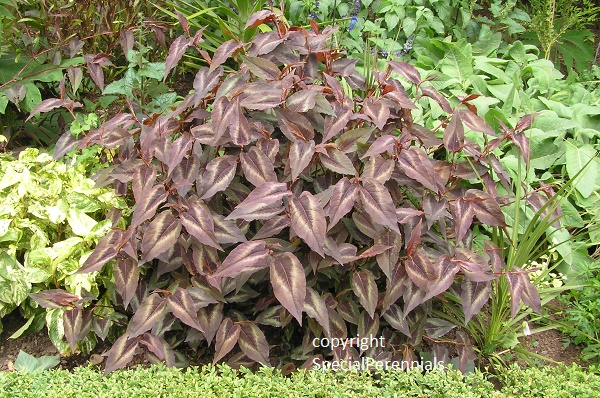 Another exotic looking but hardy variety. This one gets taller - up to 3ft /90cm if left unpruned. You can pinch it out (remove the top 2in / 5cm of growth) every month or so to get it short and bushy
A clump former.
Price £4.50 (9cm pot) Very limited stock may be available to order for mail order and collection at plant fairs