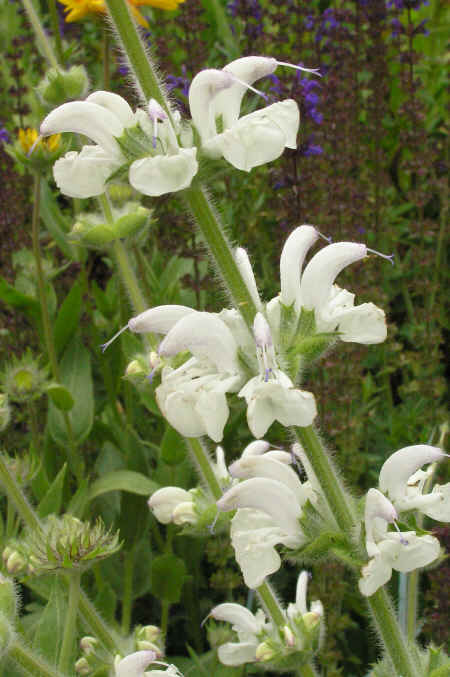 Salvia argentea
Large sliver grey leaves and lilac flushed, white flowers held in whorls around 2ft 6In / 75cm tall stems. Will self seed, but will be short lived (i.e. usually dies!) if allowed to set seed freely.
Pretty hardy, although the leaves are killed by frost. Its best to cut them away when the weather warms up to avoid rotting of the rootstock. In hard winters about 75% of ours come okay in well-drained soil.
The plants need sharp drainage and a sunny spot. Watch out for slugs under the large leaves - if you find any, you know what must be done!
The plants are native to southern Europe from Portugal through to Bulgaria.
RHS Award of Garden Merit (H3).
Price £4.50 (9cm pot)
Known as Bolivian Sage this is a giant among Salvias; growing to 6-8ft (2-2.5m) tall in one season once establish (they make 3ft (1m) in the first year from seed). The arching stems become festooned with dramatic blue flowers in September through to the first hard frost. It's been hardy with us for many years in a well-drained soil.
Price £5.00 (9cm pot)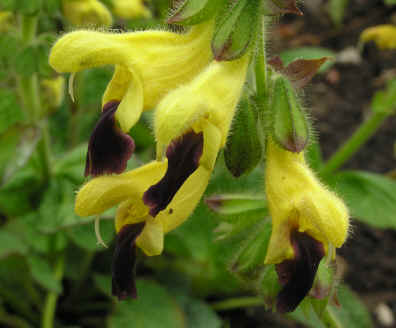 Attractive crinkly, ground hugging leaves and spikes of purple-lipped yellow flowers. Lovely! A hardy clumper. Also (incorrectly) called Salvia bulleyana and trade named as "Blue Lips" - which doesn't do it for us!
Price £5.00 (9cm pot)
Salvia greggii Icing Sugar
Hardy New World Salvia growing into a neat woody-based bush aobut 2ft tall. Two-tone pink flowers from June right into the autumn - mid-November here.
Price £4.50 (9cm pot)
Salvia guaranitica
Lovely plants with rough, slightly aromatic leaves and spires of usually blue or purple, hook-lipped flowers from mid summer onwards right into October and beyond in mild areas. They grow from tubers and can be treated a bit like Dahlias - I leave mine in the ground over winter in my free-draining soil but you can dig them in early winter, pot up (don't store dry) and keep frost free and very slightly moist.
About 2ft 6in to possibly 3-4ft tall (depending on variety) in flower. They seem to like sun or very lightly shaded spot and moisture in summer.
Propagate by careful division of tubers, cuttings or (if patient) seed.
Salvia guaranitica Blue Enigma is used to great effect in late summer herbaceous borders.
Salvia guaranitica Black and Blue
Dark blue flowers and black calyces make a bold and dramatic impact in the border. About 3-4ft tall in flower. July-October.
Price £5.00 (9cm pot)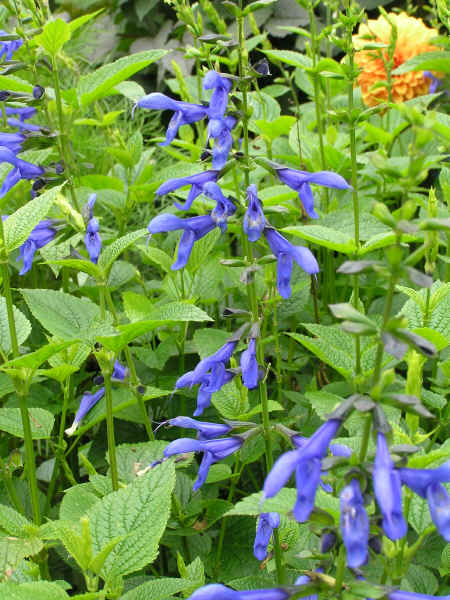 Salvia guaranitica Blue Enigma
Royal blue flowers with green calyx.
About 2ft 6in to possibly 3ft tall in flower. July-October.
Price £5.00 (9cm pot)
Salvia microphylla
Microphyllas have smaller leaves than the similar macrophyllas and tare commonly called Blackcurrant Sage because of the scent of the leaves.
The plants are about 2ft tall and flower from early summer until the first frosts of autumn. They are hardy with us in Cheshire.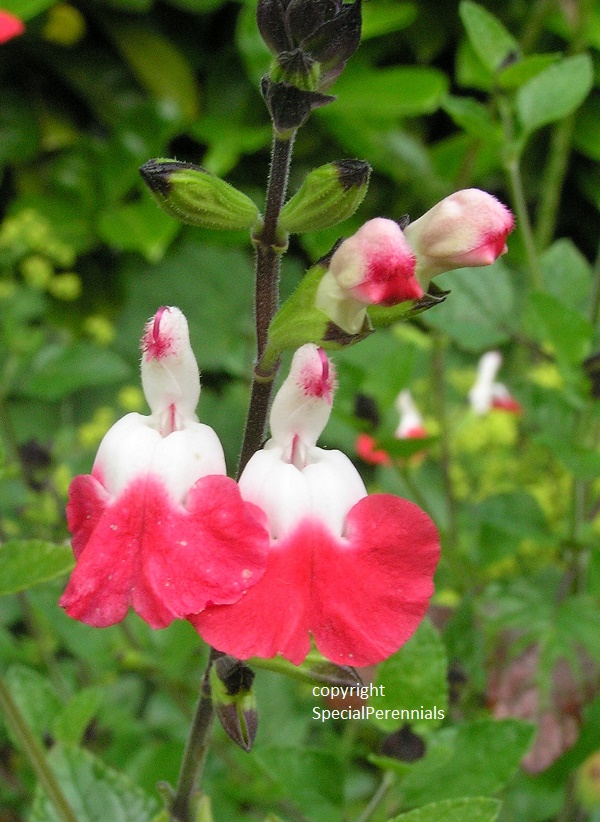 Salvia microphylla Hot Lips
Flowers may be white with red lip (as shown here) or in cool weather all white, or occassionally all red - sometimes all three on the plant at the same time!
Price £4.50 (9cm pot)
Salvia microphylla Trelawny Rose Pink
Price £4.50 (9cm pot)
Salvia microphylla Trelissick Creamy Yellow
Price £4.50 (9cm pot)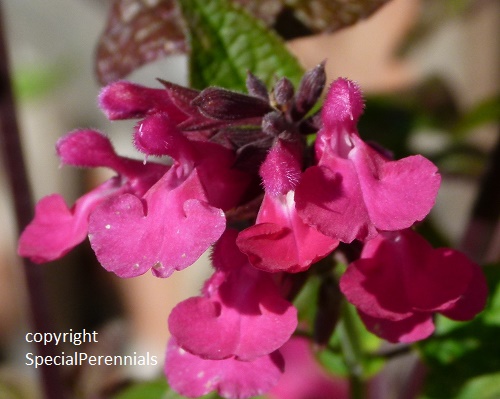 Salvia microphylla Trewithen Cerise
Noew to our catalogue for 2016
Price £4.50 (9cm pot)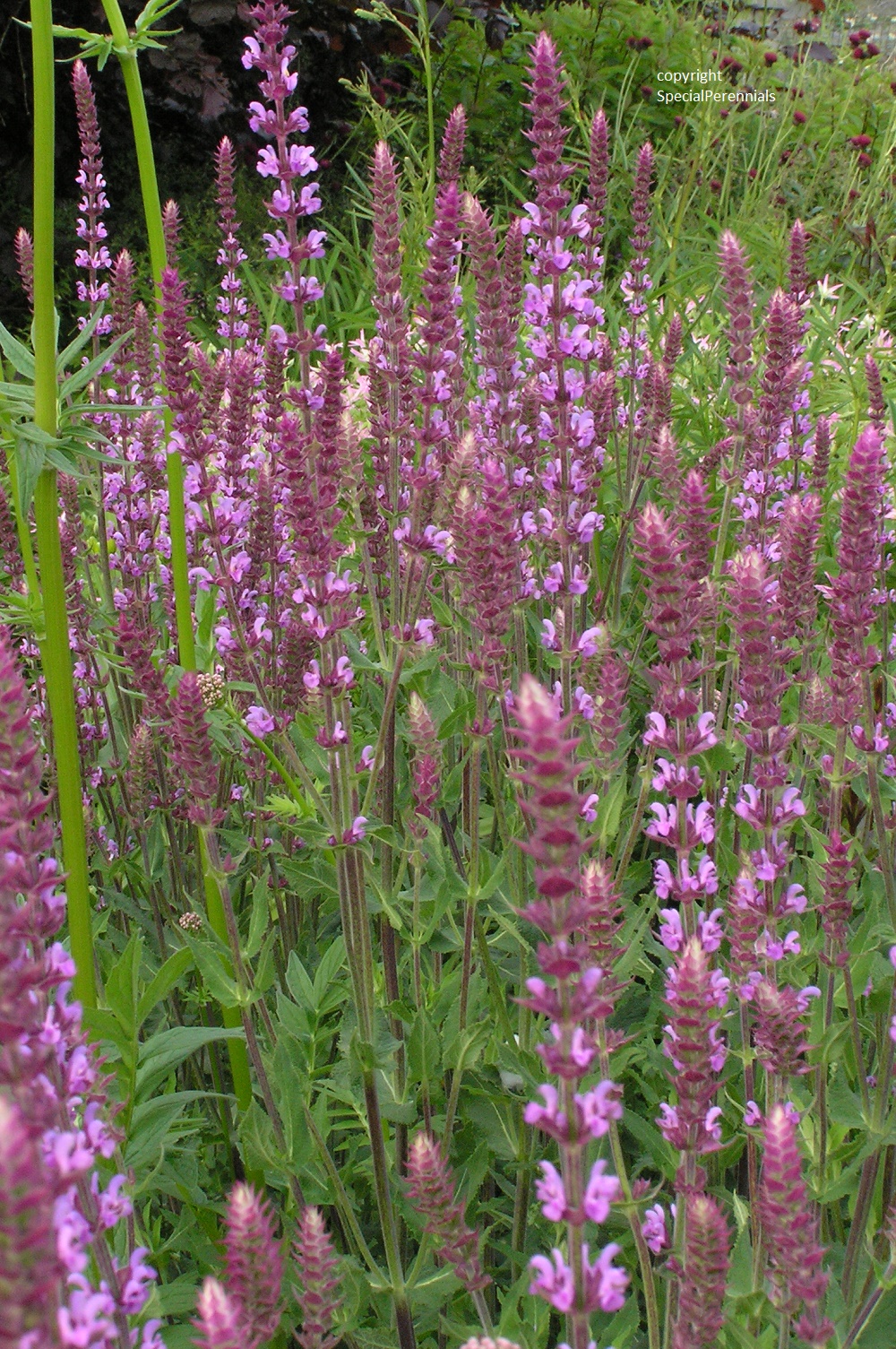 Salvia nemorosa
From central Europe and western Asia where it grows in wooded areas (hence nemorosa). They are very hardy and long-lived.
The main flowering starts in late spring / early summer. When the first flowers fade cut back to just above where the side buds are forming and continue with this until all the side shoots are spent. Then cut the plants back hard and then more flowers will grow to come out in late summer / autumn.
Although they come from wooded areas they do like some sun and in the cool, less sunny UK climate they may sulk in a shady spot.
Propagation is by division, normally in spring. Named varieties will produce very variable seedlings and for example, seedlings of Caradonna almost always lack the dark stems that make their parent so attractive.
There is some confusion over whether some varieties are truly from Salvia nemorosa, or are hybrids: x.superba or x.sylvestris. I am using the names in the RHS Plant Finder 2011-12 edition.
Salvia nemorosa Amethyst makes a lovely cottage garden plant but the straight stems can also add a more formal, architectural feel to a planting.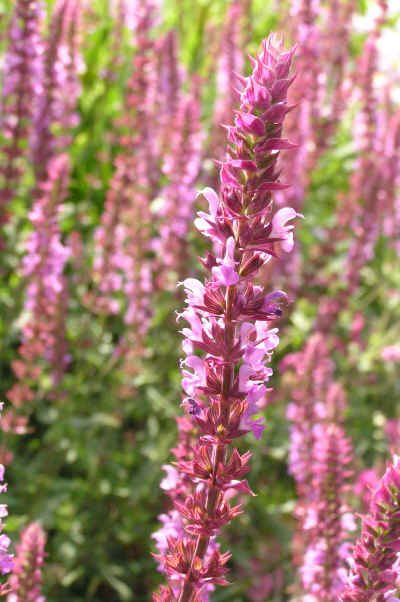 Salvia nemorosa Amethyst
Taller than other nemorosa varieties - 2ft 9in. Pale violet flowers make it rather unique amongst this type of Salvia.
RHS Award of Garden Merit.
Price £4.50 (9cm pot)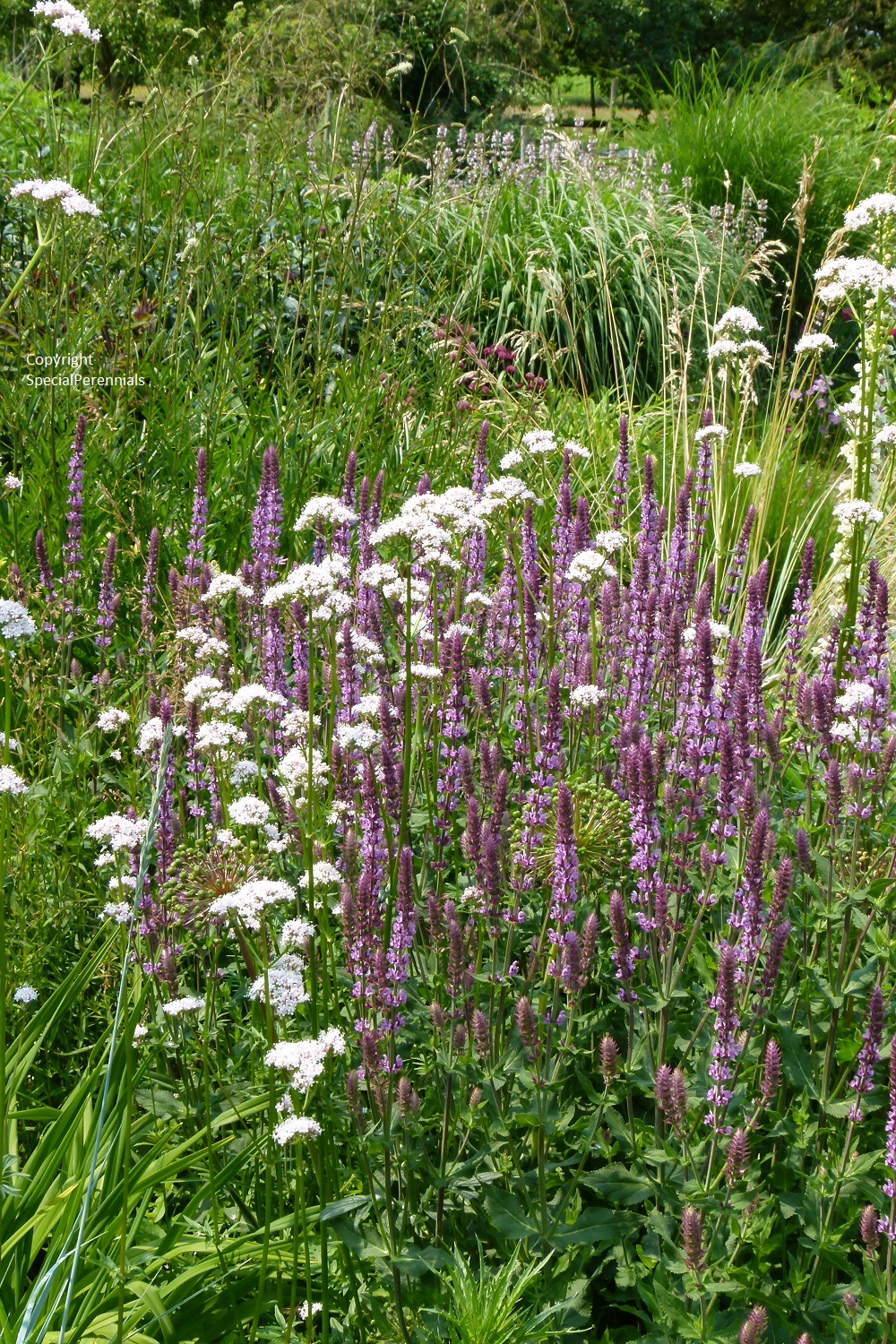 Perfect Partners: Amethyst is in complete harmony with the near-white pink of Valeriana sambucifolia from mid June through July.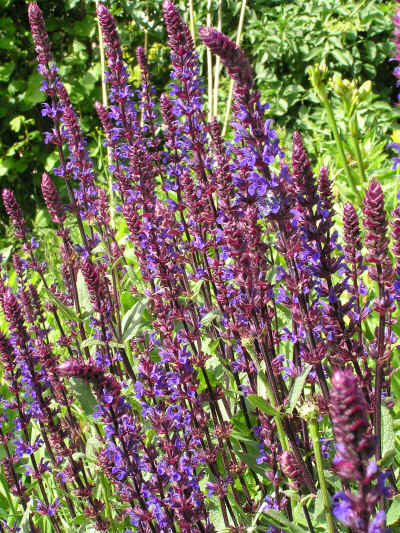 Salvia nemorosa Caradonna
Violet blue flowers set off admirably but the striking black stems. 1ft 6in / 45cm. Fully hardy.
Price £4.50 (9cm pot)
Read more about this plant's attractiveness to bees in our garden notebook for May 2011.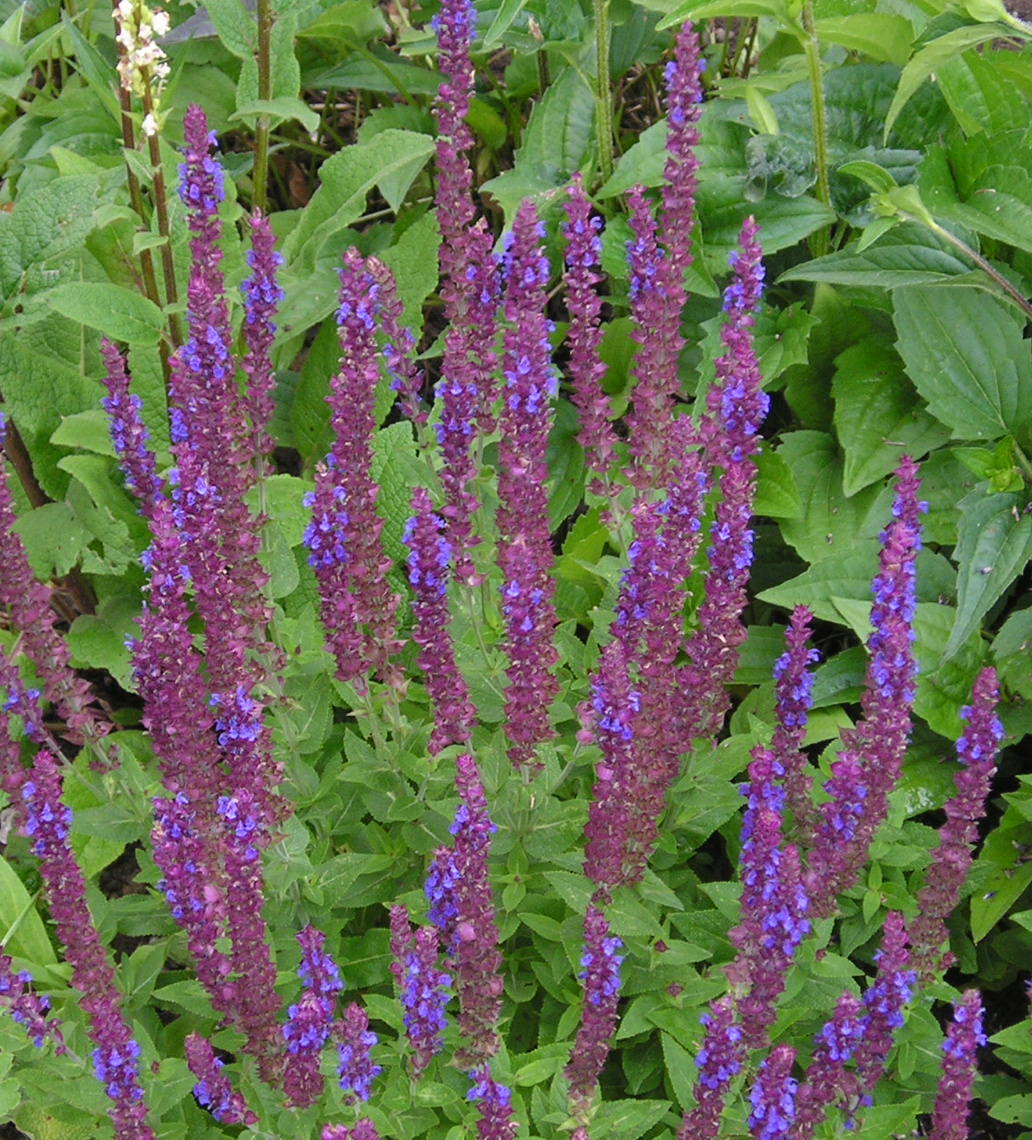 Salvia nemorosa East Friesland (Ostfriesland)
Purple flowers with burgundy bracts. 1ft 6in tall
RHS award of garden merit.
Price £4.50 (9cm pot)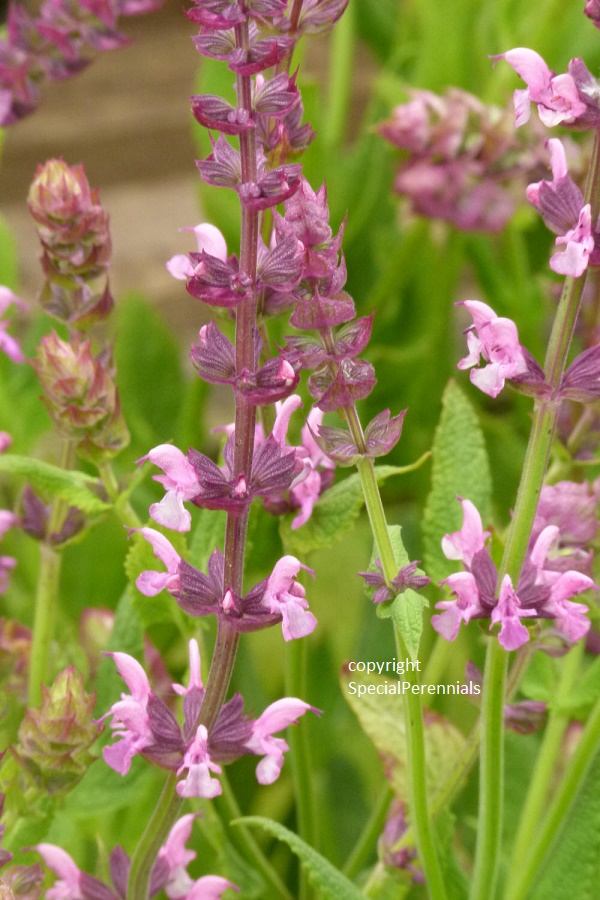 Salvia nemorosa Rose Queen
Pink flowers with darker bracts. 2ft tall. Really lovely and very tough!
Price £4.50 (9cm pot)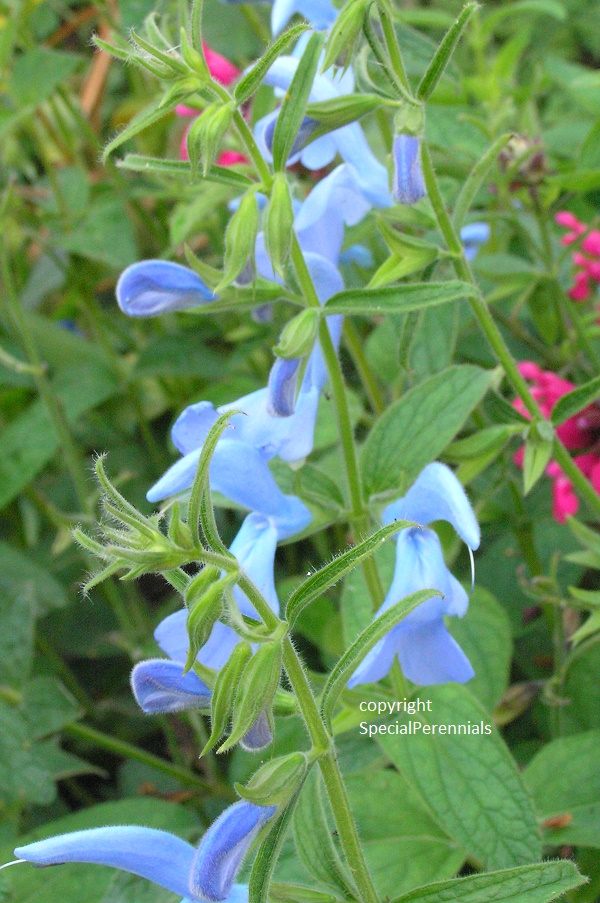 Salvia patens Cambridge Blue
This lovely salvia grows from a tuber and in my experience has the same winter hardiness as a dahlia - so if you dig up dahlias in winter do the same with these
Otherwise, leave them in a well-drained soil. If you dig them up pot them up and get frost free until early spring, bring into the light and start watering gently. These plants will flower from mid summer. Plants left in garden will flower from late summer.
About 1ft 6in / 45cm tall and slightly spreading outwards
Price £5.00 (9cm pot)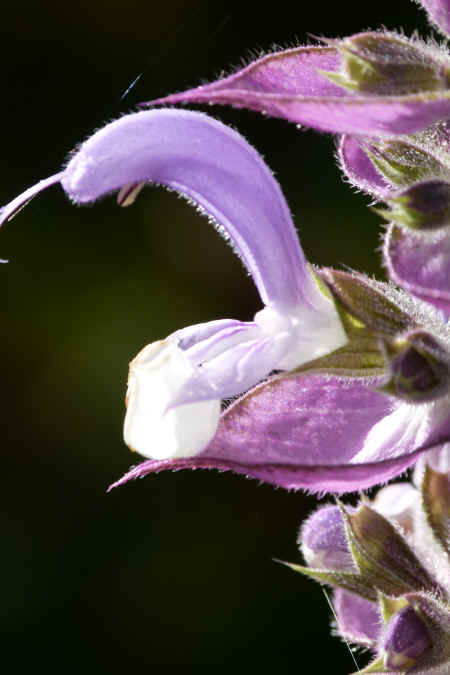 Salvia sclarea
Clary Sage has been grown for time immemorial as a source of volatile soils for healing and perfume. It is a short lived perennial or biennial (see varieties below for details) that is best propagated by seed as division is difficult.
The flowers are attractive and are boosted in impact by the large petioles that surround them.
Easily grown in well-drained soil in sun or even partial shade.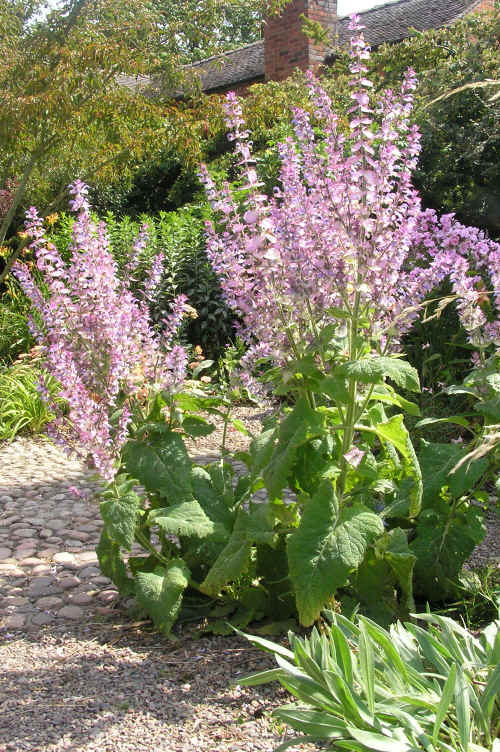 Salvia sclarea var. turkestanica
(Common name: Turkistan Clary Sage)
This is a truly architectural plant with branched stems and masses of pale blue flowers backed by large pinkish white bracts.
Biennial - dies after flowering but does self seed.
Incidentally the flower bracts are strongly aromatic when rubbed and create a difference of opinion, some liking the smell others are repelled. We're told by their keeper at London Zoo that they smell exactly like a male silver back gorilla.
SOLD OUT FOR NOW. We're growing more for later in the summer.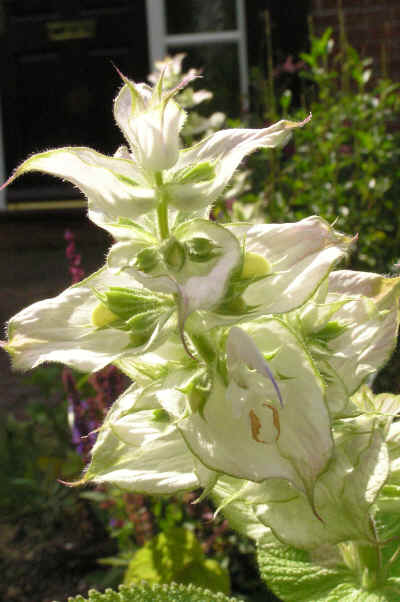 Salvia sclarea Vatican White
(Common name: White Clary Sage) Unusual pure white counterpart of the common Clary Sage. Not so aromatic as some of the others but normally perennial.
Price £4.50 (9cm pot)
Salvia x.sylvestris
Hybrids whose parentage includes Salvia nemorosa (see above) that can be treated in the exactly the same way. The epithet sylvestris also means growing in the woods. Completely hardy and trouble free.
Salvia x.sylvestris Blauhügel
("Blue Hill") Pale blue flowers with pale violet calyxes in short spikes 1ft 6in - 2ft tall from June through to frosts in flushes.
RHS Award of Garden Merit
Price £4.50 (9cm pot)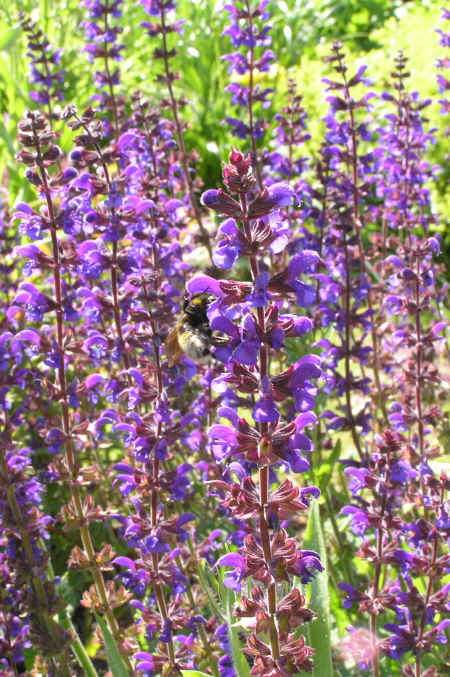 Salvia x. sylvestris Mainacht
(May Night) Indigo blue flowers with a tiny white eye from mid May onwards. 2ft tall.
Price £4.50 (9cm pot)
See a lovely planting combination between Salvia Mainacht and Geum Lady Stratheden in our garden notebok for June 2012.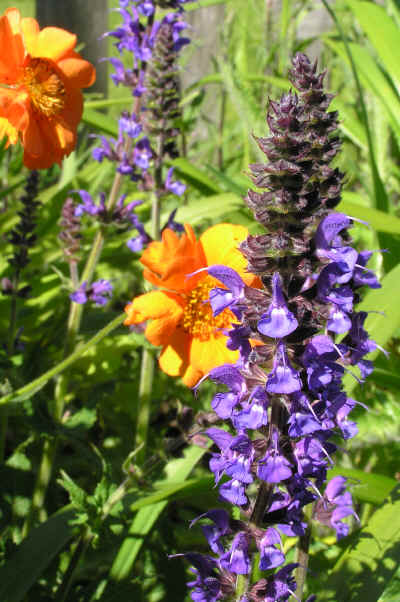 Perfect Partners: Salvia Mainacht contrasts splendidly with the bright orange of Geum Dolly North in May
Salvia x. sylvestris Schneehügel
(Snow Hill) Pure white flowers 1ft 6in tall. Flowers all summer in flushes.
Price £4.50 (9cm pot)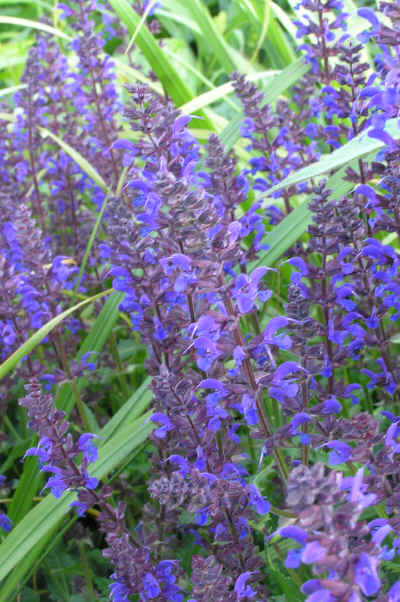 Salvia x. sylvestris Viola Klose
Almost unbelievably rich, deep purple. 1ft 6in tall. Flowers all summer in flushes.
Price £4.50 (9cm pot)
Salvia verticillata Purple Rain
Wonderfully tactile bottle-brush flowers with whorls of purple-backed blue-purple flowers. About 2ft - 2ft 6in. Main flowering period is June - August and then again at the end of September if cut back when first flush fade. A favourite with bees in our garden.
Price £4.50 (9cm pot)
Perfect Partners: Purple Rain is the perfect foil for pale pink flowers like Phlox Discovery.
Wishes Series
From the original Wendy's Wishes a whole series of colour breaks is now available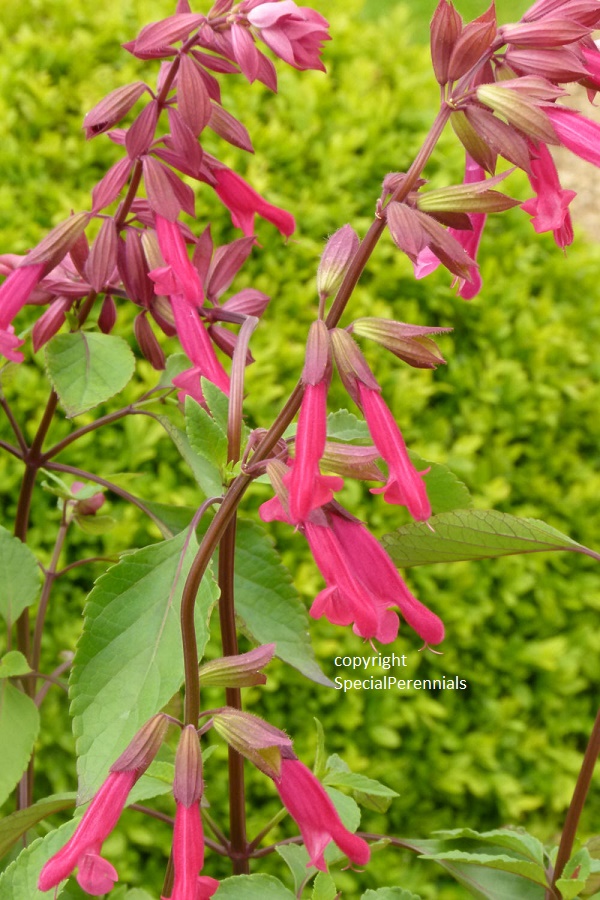 Salvia Wendy's Wish
A new hybrid Salvia that came up in the Australian garden of Wendy Smith. The pink flowers paired with the pink calyces really turn your head.
We saw it growing at Abbeywood Garden in Cheshire and just had to try it. It seems to be hardy in a sheltered spot and free draining soil.
Will get to about 2-3ft tall but can be pinched out in spring to keep her more compact. Flowers all through the summer.
Price £5.00 (9cm pot)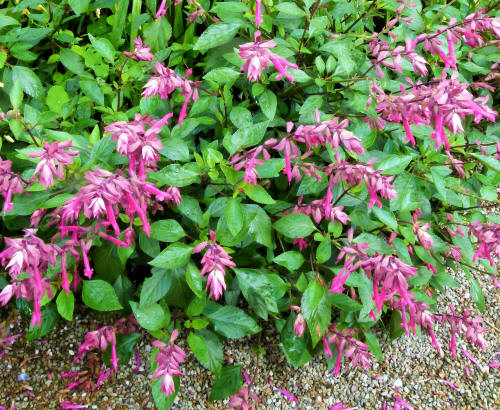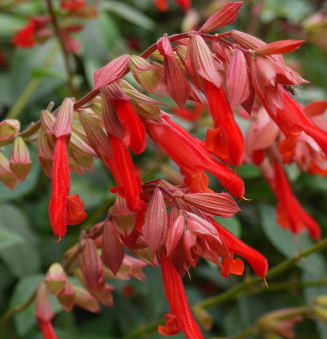 Salvia Ember's Wish
Same growing details as Wendy's Wish but with glowing orange-tinted flowers
Price £5.00 (9cm pot)
Salvia Love and Wishes
Same growing details as Wendy's Wish but with deep purple-pink flowers
Price £5.00 (9cm pot)