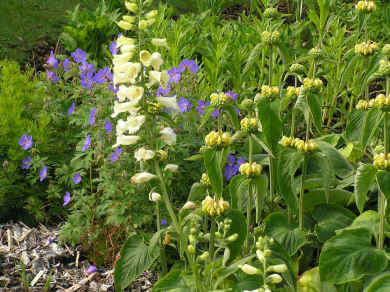 Phlomis
Excellent drought tolerant herbaceous or shrubby perennials. They often have felted leaves. All have flowers arranged in whorls up the stems and pepper pot seed heads. Propagation can be from seed but is also easy by division.
They appreciate well-drained soil and sunny spot. All the varieties we grow are completely hardy.
An excellent booklet on Phlomis ("Phlomis the Neglected Genus") was published by the NCCPG in the UK. The National Plant Collection Holder, Mr J. Mann Taylor, also publishes details of the plants on the NCCPG Gloucester Website
Perfect Partners: Phlomis russeliana complements Primrose Carousel foxglove and Geranium Johnson's Blue
Members of the Lamiaceae family.