Helianthus
Common Name: Perennial Sunflower.
As featured in Garden News - click here for Martin's expert tips.
These are the perennial relatives of the well-loved, towering sunflowers of our childhoods. They make great long flowering, trouble free subjects for the back of a sunny border. They will also grow well in dappled shade.
Most are great in dry soils.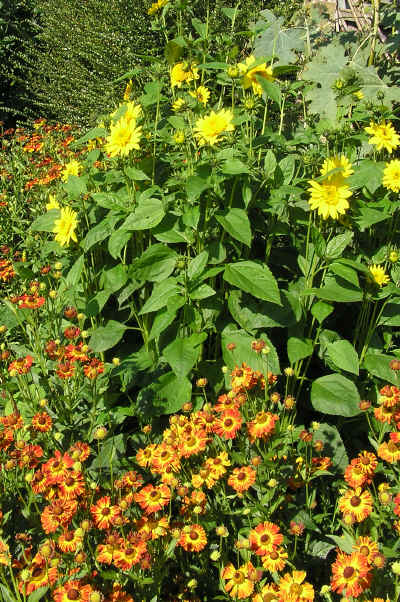 Great for bees.
Most spread slowly - some do run a lot (e.g. laetiflorus). Cut down the stems in early winter. Lift and divide every 2 or 3 years otherwise the plants can be very difficult to break up. Some are said to be less hardy than others. In very cold winters the new buds at the soil surface can be damaged, but in my experience the plants recover well but may be a little later to flower.
Some species have chocolate scented flowers. This is only really noticeable if you get your nose right into the bloom.
A member of the Asteraceae family.
Photo: Helianthus Capenoch Star with Helenium Königstiger in our garden 12 Aug 2010 © 2010 SpecialPerennials.com All rights reserved