Welcome to SpecialPerennials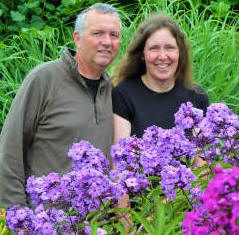 We hold the National Collections of Helenium and Centaurea at our garden nursery in Hankelow, Cheshire UK where we grow choice and unusual perennials.
All plants are grown and tried out here, so we can talk from experience on how to get the best from them.
We sell plants by mail order and at plant fairs only - our nursery is not open to the public but you can pick up an order from us by arrangement.
Best wishes Janet & Martin
Mail Order Update: We are working flat out to send orders at the moment. If you can avoid phoning for a progress report it will help. Please be assured we won't send an order without checking you're available to receive it -
Thanks J&M
Did you miss Martin and our Heleniums on BBC 2 Gardener's World Friday 29th August? Catch up by clicking here.
Our range of Heleniums can be found by clicking here
Our Plant Catalogue
Over 500 plant varieties all pictured growing in our garden and with complete growing instructions and propagation tips.
We grow particularly large ranges of Helenium, Phlox, Centaurea, Geum, Hemerocallis, Salvia and Geranium plus lots more lovely hardy perennial plants
Full details of our mail order service are available here.
Why not pick up an order from a plant fair or collect from us and save the postage charge?
May in the garden. Click here to read
Browse our Diary archive here. Full of planting ideas, propagation tips and lots of photos from our garden.
Photos and notes on wildlife visiting our garden together with tips on plants to attract more wildlife to your garden. Explore more
Full of tips and techniques that work for us plus articles featuring our garden. Click here.
Where to meet us
Scroll down this list to see where we are or here for full details of plant fairs we are planning to attend
You can order plants for Martin to bring to a plant fair for you (no delivery charge).
May 2015
30/31 Hodnet Hall Market Drayton, Shrops TF9 3NN
Jun 2015
7 Burton Manor, Wirral CH64 5SJ
14 Culland Hall, Brailsford, Derbyshire
21 Whittington Castle, Whittington, Shrops. SY11 4DF
Jul 2015
4 Arley Arboretum, Bewdley, Worcs DY12 1XJ
5 Sugnall Walled Garden, Eccleshall, Staffs ST21 6NF
26 Carsington Water, Ashbourne, Derbys DE6 1ST
Aug 2015
1 National Memorial Arboretum Alrewas Staffs DE13 7AR
2 Dearnford Lake, Whitchurch, Shrops SY13 3JQ
23 Abbeywood Gardens, Delamere Cheshire CW8 2HS
30/31 Dorothy Clive Garden, Newcastle Staffs TF9 4EU
Sep 2015
5 Bodenham Arboretum nr Kidderminster, Worcs, DY11 5SY
6 Ness Botanic Gardens Wirral, Cheshire. CH64 4AY
13 Weston Park, Shifnal, Shrops TF11 8LE